Women's Team Commercial Partners

Birkirkara FC Women's Team are one of the most successful teams on the island and the Club is seeking to estabilsh the Women's Team on a more professional set-up. In view of this, during the 2015-2016 season it was launched the Partners' scheme.
These great companies and business believe in women's football, and are doing their part by supporting our team. Do your part and make use of their products and services whenever possible.Companies interested in joining the partners' scheme are kindly requested to send an e-mail on partners@birkirkarafc.com
Drinks n' More
Drinks and More sell over five hundred different wine varieties,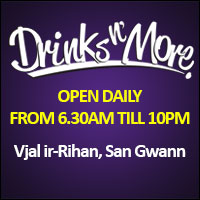 over two hundred spirit brands, all beer and cider brands, all syrups, soft-drinks, juices and a good selection of Waters, still or sparkling, pet or glass. Thatís the first part.
Why More? Because we also sell all the daily needs ranging from bread, milk, pre-packed Deli Items and Dips, among many. We also enjoy a large range of frozen food while we also specializes in healthy food and baby food. We have also cigarettes, tabacoo, cigars and a big selection of Zippo.
We also take care of your event such as weddings and birthday parties as we offer a special discounted prices for these type of events while we offer a free-delivery for orders spent over Ä50.
Drinks ní More is located at Vjal ir-Rihan, San Gwann. For more information, contact us on 2137 1807.
Drinks n' More Official Website
|
Drinks n' More Official Facebook Page