BKR Radio
BKR Radio has since its very beginning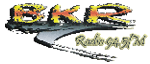 and up to this very day been run totally and solely by volunteers. This team of radio hosts, from all ages and walks of life, come together to produce 24/7 broadcasting that covers a large selection of topics and music, that offers something for everyone.
After ten years as a community radio, transmitting on the frequency 94.5FM, BKR Radio started broadcasting also on Digital Audio Broadcasting from 5th December 2011. Now it may be enjoyed also from outside the Birkirkara area, and has effectively become a national radio station.
It was a big step and hopefully, broadcasters and listeners alike, will give the same cooperation and encouragement that they gave when broadcasts started for the first time.
We encourage listeners to acquire a digital radio set, so that they may enjoy listening to BKR Radio from anywhere in Malta and Gozo.
BKR Radio – Broadcasting what Unites Us.