Interview with Chantal Fenech
by
Ayrton Galea
- 11th August 2012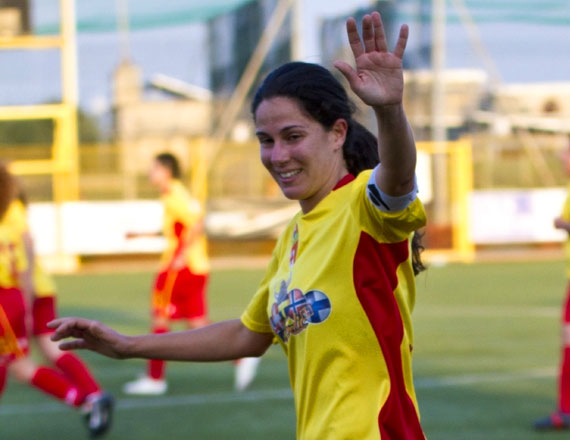 Just few hours away from the first match of the UEFA Women's Champions League, we decided to interview the Women's Team captain Chantal Fenech. It is clear to notice that the squad is well prepared for these matches and they are concentrated with the aim to give positive performances.
Who is Chantal Fenech?
I'm 32 years of age, was born and lived most of my life in Birkirkara. At the moment I am living in St. Paul's Bay but will soon be moving to Mqabba. I love all sports; in fact I work as a PE teacher at Immaculate Conception, Tarxien. I see myself as a positive and energetic person and involve myself in lots of things which, at times I must admit can be a bit stressful.
What is your marital status?
I'm getting married this coming December.
Football apart, what do you do in life?
As I said before I'm a PE teacher. In summer I'm also busy teaching swimming with KMS
What are your hobbies?
I enjoy anything related to sports, such as a tennis game or a squash game with friends. I do not consider football as my hobby but my passion.
Do you have a role model? Who, and why?
My sister is my role model because I think she is very successful in everything she does.
Do you have a favourite quote or motto?
Live today like tomorrow will be your last.
Do you follow international football? If yes, which is your favourite nation when it comes to football, and which is your favourite foreign Club?
With regards to men's football I side with Italy and Milan... With regards women's team I like to watch USA.
At what age did you start playing football?
I started pretty late as before I used to swim... I was around 16.
Why did you choose our Club?
I come from Birkirkara so for a 16 year old who didn't drive it was easy for me to get to training that is why I originally chose to play with Birkirkara. However now I've been playing for this club for 16 years I would never change team as I feel it's like my second home.
How difficult is it to find a balance between football and personal life?
I was always good at juggling activities in my life. I've been into sports regularly from the age of 10 so time management was never a problem for me. Also my boyfriend is into football as much as I am or maybe even more, so he totally understands my football commitments.
As a team captain, what responsibility does this position carry? How hard is it to give a good example with your attitude, especially in difficult times?
I believe my attitude has changed since I've been captain as I do feel I need to give an example to my team mates especially during training. I am a teacher by profession so this helped me to handle stressful situations as best I can and I try to transmit the positive attitude to my team mates.
How is your relationship with Head Coach Mr. Scicluna and the rest of the technical staff?
I think we have a very good relationship and there is mutual trust and respect. Occasionally he asks my opinion about things related to our team and I feel he values what I say. The rest of our technical staff is amazing. I never saw so many dedicated people who work as much as they do for nothing in return but just to see us happy and give us whatever is needed. I respect them greatly as all my team mates do and we all feel very lucky that we have people like them.
Who is your favourite team mate?
I don't have any favourites. Everyone in the team complements each other and each and every one of us is an important asset to the team.
We are hours away from the UEFA Women Champions League. How are you and the rest of the team feeling?
We trained very hard for this in the scorching heat so now that it's so close we are all concentrated to have a good performance and try our best for our club and also for our country.
Normally we play an offensive game but probably in these matches we shall adopt a more balanced and defensive system. Do you think that this can be a disadvantage for the squad since you are not that used to defending or playing against strong opponents?
Our coach has prepared us for any situation so I believe we are all ready in the best way possible to play any type of game.
What are you expecting from these matches? What are the squad's targets?
Our targets are to give the best performance possible. We do not want to pressure ourselves with any scores.
Do you have a message for the supporters?
Come and support us, not only because we are representing Birkirkara women's team but also because we are representing Malta. Birkirkara FC is making history as this is the first time that a Maltese women's club is hosting the champions league group stages so this should make us all proud.
Thank You.
comments powered by

Disqus