Interview with Miguel Alba
by
Ayrton Galea
- 17th March 2017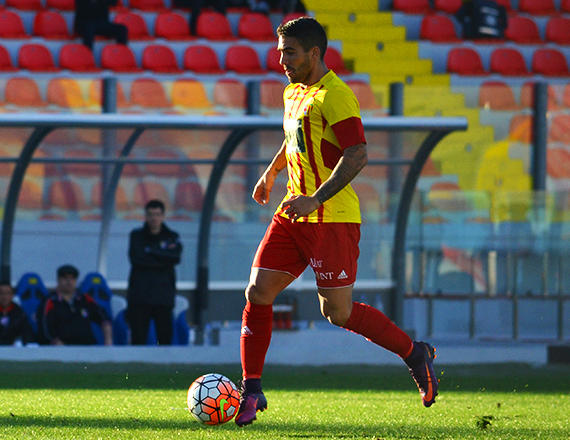 Play-maker Miguel Alba settled down quickly after joining our Club in the January Transfer Market, and his electrifying performances have left an instant mark with the Stripes. We spoke with him about his adventure with our Club and the team's targets.
You give the impression that you settled down immediately after joining our Club in the January Transfer Market. Was it difficult to settle in a new country and have positive performances right from the start?
The truth is that I am used to changing countries, and I always managed to adapt quickly. The most important thing was that I adopted quickly with this team.
Have you ever imagined to be playing in Malta? How did this happen?
I had never heard or seen the level of football in Malta. It was possible by a colleague in Cyprus who spoke to me about the opportunity.
Two goals, two assists and twice the BOV Player of the Match in the last three matches. What are your comments about your matches so far? Do you think you can improve?
I am happy with what achieved in such a short time in a new country with a new club. However, I always try to improve to be able to achieve better things, both personally and with the team.
We have seen you play as a striker, offensive midfielder and as a winger. Which is your favourite position and why?
I feel best in an offensive midfielder position, behind the central striker, where I will be able to receive and distribute the ball as much as possible.
What are your comments on last Sunday's victory? Do you agree that it was one of the best matches so far?
Sunday's victory was very important to climb to a better position and strengthen our challenge for the top-three places. I felt good, but I believe that all the team played well.
We played with a 3-5-2 formation in the last two matches. Does this new formation suit the team? Is it leaving the desired results?
I think that a 3-5-2 formation is good to attack with the wings while it ideal for a strong midfield. We have adapted this formation in training and week in week out, the Coach is always working with us to play and improve on this.
We are facing Sliema Wanderers next Saturday. Do you know anything about them?
I don't know much about Sliema Wanderers. However, I have witnessed that all teams playing against us will do whatever it takes to beat us. Like all the matches, it's going to be a difficult match.
With eighth matches to go, we are in the fourth place. What are the current team's targets?
There are eighth matches left and we want to win them all. The most important thing is that we finish in the top-three places. I am aware that the Club was always participating in European competitions in the last twenty years.
What are your personal targets?
My personal targets are to continue helping the team in every way possible to achieve a place to participate in European competitions. On a personal note, I would like to score more goals.
What is your message to the supporters?
I would like to thank all the supporters who are using their time to come to the stadium and encourage us every weekend to get the three important points.
comments powered by

Disqus