AME Cup launched
by
Ayrton Galea
- 13th July 2012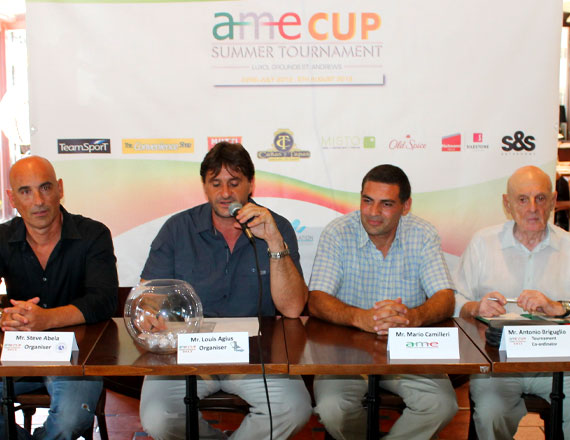 Today a press conference was held at Canas y Tapas, to launch the first edition of the AME Cup, which will be contested by eight Premier League clubs. The tournament will be played between Sunday 22 July and Sunday 5 August at the Luxol Stadium.
The participating clubs are Balzan FC, Birkirkara FC, Hamrun Spartans FC, Mosta FC, Qormi FC, Rabat Ajax FC, Sliema Wanderers FC and Tarxien Rainbows FC.
Louis Agius from JPL Sports Events, one of the main organisers of this tournament, opened by saying that this tournament will be divided into two groups composed of four teams each. The tournament format will be a round robin one, where every team will face every team in that group. Two teams from each group will advance to the semi final. The winners of the semi-final will obviously play in the final.
He went on to say that there will be also matches for the third and fourth place, the fifth and sixth place, and the seventh and eight place. Every match will have a winner, because if a match ends in a draw, it will go to a penalty shoot out.
Mr. Agius continued by saying that points for this tournament will be three points for winning team in regular time, two points for the winning team thanks to the penalty shoot out and one point to the losing team by penalty shoot out. No points will be given to the losing team in regular time.
Louis Agius went on to thank the sponsors, particularly the main sponsors AME Health and Safety. The other sponsors include Silstone from Hal Mann, Teamsport, Mutti from Carmelo Abela Marketing, Misto Cafe, S&S Bathroom and Old Spice. Louis Agius then explained that in this tournament there can be a maximum of six substitutions per match, and that there will be no limit on the number of foreign players that a team can utilise. Players that were not officially registered with the team, can also be fielded. The footballs that will be used will be the same ones that will be used in the Premier League 2012/2013. The main aim was to give teams as much preparation as possible for the upcoming difficult season.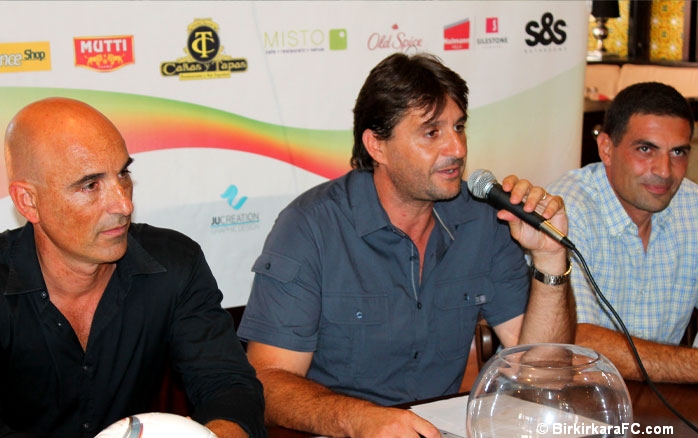 Louis Agius concluded by saying that an agreement was reached with Melita TV so that all ten matches will be shown live on Malta Stars. The teams' coaches will receive a DVD of the matches that they play, so that they can analyse the matches.
Mr. Mario Camilleri, Director of AME said that the company wants to raise awareness on health and safety and they felt that this tournament is the first step where people will be informed about health and safety not only on their jobs but even at places of recreation.
Mr. Steve Abela of Luxol Events, who is another main organiser of this tournament, said that the other organisers and himself came together to organise an event which satisfies everyone. They are aiming that this will be the best ever tournament of its kind to be organised so far, and players, committees and the press will be accommodated in the best way possible. He said from his experience when he was a president of a football club, he knew that teams found it hard to organise pre-season friendlies. This tournament will be solving this problem for the participating clubs.
Mr. Tonio Brigulio who is the tournament's co-ordinator said that all matches will be controlled by the MFA's referees. He went on to explain that there are two awards to be won which are the top scorer award and the fair play award.
The top scorer award is obviously for the player who scored most but if two players scored the same amount of goals, the winner will be decided by who scored most in one match, and then by who scored the fastest goal.
The fair play award will go to the team that receives the least amount of yellow and red cards. Red cards will mean a deduction of six points while a yellow card a deduction of three points.
This was followed by the draws and these are the results:
Group A:
Qormi
Birkirkara
Rabat Ajax
Sliema Wanderers
Group B:
Balzan
Mosta
Tarxien Rainbows
Hamrun Spartans
The first match will be played between Birkirkara and Sliema Wanderers Sunday 22 July. Then, Birkirkara will be involved in the second match against Qormi on Thursday 26 July, and then on Sunday 29 July against Rabat Ajax. All three matches will kick off at 18:30.
comments powered by

Disqus