March Round-Up
by
Ayrton Galea
- 1st April 2011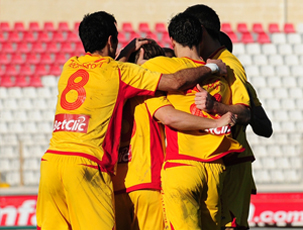 As yesterday was the last day of March, we are going to go through the highlights of the month. Like the previous two months of this year it was a month of two halves for our Club.
This month Birkirkara played only three matches, two from the BOV Premier League and one from the U*BET FA Trophy. This month could not open on a more negative note as 'The Stripes' title hopes were dashed by Valletta on the 3rd March when the latter beat Birkirkara by a solitary goal.
However, in the next Premier League match on the 12th March, Birkirkara showed their true potential as thanks to a solid performance 'The Stripes' beat Marsaxlokk with a score of 4-1 thanks to goals by Ryan Scicluna (which was his first goal in the Premier League), Ibrahim Babatunde (who scored his first goal with Birkirkara) and the other two scorers were Michael Galea and Emiliano Lattes.
The Premier League gave way to the U*BET FA Trophy. The Birkirkara supporters went through a roller coaster of emotions against Sliema Wanderers on Saturday 19th March. 'The Stripes' came twice from the behind in a draw of 3-3. Then the match went to the penalty shoot out and Birkirkara beat Sliema Wanderers with a final score of 6-4, with Manuel Bartolo being the main protagonist.
Team Statistics
Birkirkara registered two wins out of the three involved matches. In the Premier League Birkirkara scored four and conceded two. In these two matches Mr. Paul Zammit made use of no less than seventeen players. From these two matches, 'The Stripes' collected four yellow cards which were all conceded in the match against Valletta.
In the U*BET FA Trophy 'The Stripes' won the only game that they were involved in so far. Ignoring the penalty shoot-out, Birkirkara scored three and conceded three. For this match, the head coach made use of all the three substitutions available which means that Mr. Paul Zammit made use of fourteen players for this match. In this match, Birkirkara collected three yellow cards. 'The Stripes' were awarded a penalty in this match, and they failed to convert it into a goal. This was the only penalty won in this month. No penalties were ordered against.
On the 7th March, Birkirkara's winger Emiliano Lattes was awarded the BOV Player for the month of February.
Club Highlights
On the 2nd March, Birkirkara F.C issued a press release that with immediate effect the Club was going to use the badge as laid down in its Statute, and as confirmed in its last Annual General Meeting.
comments powered by

Disqus